The Recording Of The Pirana Project
This page is mainly created for the Nuendo community, therefore there's a lot of technical information listed.
All underlined words or phrases (except this one) have a link to the raw recordings - just as they have been put on tape.
That is except the fact that I've converted them into mp3's to reduce the download time.
Concept
This project was financed and driven by the marketing and communications agency Pirana Concepts through their record label Pirana Records.
They liked the music of Frank Debruyne so much that they decided to make a concept out of it and sell it.
Please have a look at their offcial Pirana Projects Website.
The music is build around 3 baritone Saxes and has a distinguished "edge" to it.
The preference for unusual musical balances and dissonant chords enhance the unique character of this music.
All words & phrases in the album are in (ancient) Latin.
The people in the band are the most un-rock&roll musicians I ever worked with.
They were present at 8.30 AM in the studio, without hangover, were never late, did not rebuild the studio,
did not get drunk or stoned and most importantly ... they were very critical to their own performance.
This is the most disciplined and thereby the most pleasant recording session in my 25 years career.
We recorded 8 days in a row and have mixed twice as long.
The Recording Sessions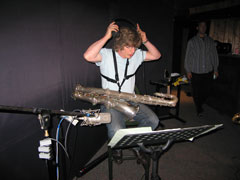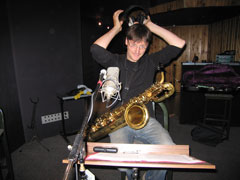 Frank Debruyne, John Snauwaert en Bjorn Verschoore, the 3 Baritone Saxes to which the music is build around.
Frank & John play into a Neumann M149, Bjorn into a Neumann U47fet, all plugged into a Focusrite Red 1.
Most of the time, they played together which resulted into major tuning problems.
Still, the bleed was what we were after. Here's how it sounded: Frank, John & Bjorn and the mix of all 3.
In the background (left photo) you can see Bob Ameloot who was the assistant engineer for the project.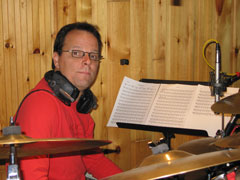 Meet Kaj Vandecasteele, drummer and percussionist of the band.
The drum setup was rather complex since I needed many different drum sounds throughout the album.
He also used two snares in order to be able to change snares during the same song.
Here's the list of gear we used to capture the drum kit.
Kick (Inside): AKG D112 => Neve 1272
Kick (Tunnel): Neumann U47fet => Vintec X73i
Snare up: Sennheiser e903 => Focusrite Red 1
Snare Down: Shure SM57 => Neve 1272
Snare #2 => Shure SM57 => Neve 1272
Tom High: Shure Beta 98 => Neve 1272
Tom Mid: Shure Beta 98 => Neve 1272
Tom Floor: Shure Beta 98 => Neve 1272
(Extra) Floor Tom => Neumann TLM170 => Focusrite Red 1
HiHat: Shure SM81 => Focusrite Red 1
OH's: Shure SM81 (X-Y pair) => Ridge Farm Gas Cooker
Ride & Crash: AKG C460 (with CK3) => Ridge Farm Gas Cooker
Room: Neumann M149 => Neve 1272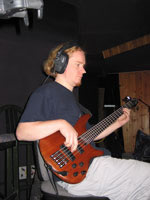 Stijn Deldaele, playing the Bass, Upright Bass & Fretless Bass.
The right picture shows the DI's used for the (regular) bass recordings.
Millenia TD1 in paralell with the Sansamp Bassdriver => Focusrite Red 1.
Update - (Sansamp was not used in the mix)
The 1-rack unit in the back is a Trident S20 (for the Room Mic's) which wasn't used in the recording.
Actually, I had the Trident on test but gave it back. It was no competition for the other preamps we have.
The Upright bass has a Neumann M149 => Focusrite Red 1 on the F-hole and a Neumann TLM170 => Neve 1272 on top.
Just for fun (and horror), I recorded also the DI of the pick-up.
Eduardo Vega is from Puerto Rico, and has found love and happiness in Belgium.
His cabinet was miked with the traditional SM57 => Neve 1272 and with a Blumlein pair or Neumann M149's => Focusrite Red 1.
Update - (SM57 was not used in the mix)
On the right picture you can see that I added a music stand to create more reflections in the soundfield.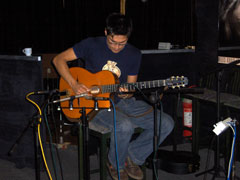 For the recording of he acoustic guitar, I used a spaced pair of Neumann KM84's => Ridge Farm Gas Cooker
and an X-Y pair of Shure SM81's => Ridge Farm Gas Cooker.
Update - (KM84's were not used in the mix)
Kaj playing the Guiro, Cymbals & Bongo's in the Drumcage, which has a variable acoustic by means of the curtains in the back.
Recorded though a spaced pair of Neumann KM84's => Ridge Farm Gas Cooker.
On the cymbals we used an additional Shure SM81 to obtain a more direct sound.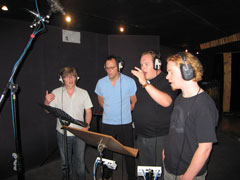 On the left, the band members singing a Gregorian song for the soundscape at the beginning of "Psalmus".
This was captured with a spaced pair of Neumann KM84's => Focusrite Red 1
In the middle, Jo Lemaire trying to get the Latin pronunciation of each word correct.
She sings into a classic Neumann U47Tube => Vintec X73i => Summit TLA100a
On the right, Frank simulating a (Middle Ages - Latin) GPS_voice in a trip from Barcelona to Rome.
He sings into a Neumann M149 => Vintec X73i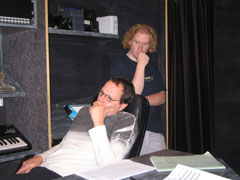 On the left, the horn section listening back to what they just put on tape.
Most heard phrase was: "I can do better, let's do another take"
In the middle, the excellent (and healthy) food prepared by Hilde.
On the right, Stijn & Kaj having second thoughts about the engineer and choice of studio.
Although they also put their pants on, one leg at the time, it took a Gold Record producer to convince them that the song needed more Cowbell.
You can see Kaj exploring the room and adding a great performance to "Potatoris Exquisiti ".
The Mastering
Not many people have a good idea of what a Mastering Engineer actually does to (and for) the final product.
Therefore, I've posted the "final mixes" that have been send to the Mastering Engineer & the mastered versions.
All of the Temple Of Tune masterings are done by Grammy Award-winner Bob Katz of the Digital Domain, as far as I am concerned *the* best ME on this planet.
These were my guidelines to Bob.
The general keywords are: Warm, Analog, Friendly and "agressive with an edge" where needed.
Here's a detailed runthrough.

1. Pirana.
This song can have a dirty edge to it. The more power and steaming drive you can give it, the better.
2. Saxus Balbus
Whatever you think it needs.
3. Rota Temporalis
At the very last minute, I was able to convince the client that he needs to use the "Vocals Up" version (+1 dB), so consider this one as the "Full" version.
I have provided an instrumental and Vocals Only version, just in case you run into troubles.
4 + 5. Potatores Exquisiti
Here again, you can let the beast go. Steaming power.
CD ID #4 starts at the intro and #5 should start at about 1 minute and 4 seconds, where the music comes in.
There shouldn't be any pause between #4 and #5.
I have provided Intro Only & a No Intro mix for your convenience.
6+7 Psalmus.
Whatever you think it needs. Warm & Friendly is what comes to my mind.
CD ID #6 starts at the intro and #7 should start at about 1 minute and 9 seconds, where the sax comes in.
There shouldn't be any pause between #6 and #7.
I have provided Intro Only Fade, Intro Only No Fade & a No Intro mix for your convenience.
The first part is a soundscape of an exteriour ambiance with a chruch choir in the background. As if you were passing by a church.

8. Alea Iacta Est
I think you can make this one into a tight/warm/dynamic/and yet clean song.
But you can do whatever you feel like with it.

9. Dies Irae
Title means Judgment Day or Doomsday.
Where there is chaos, you can enhance the chaos. More power to this song.
10. Narratio
This one has the feel of a Pink Floyd song and is one of my favorites.
Please try to keep the feel of the dynamics at the beginning of the second part.
Towards the end, you can let it all loose.
It might be nice to have a start with a clean/warm sound and end up with pushy, almost distorted sound.

11. Itinerarium
Here you can try to make it a clean/warm/dynamic master; but i don't know if it will work in the flow of the album.
So it's totaly up to you.

12. Vas Fractum
Same as above. I know that the breaking vase is damn loud, you can squeeze the dynamics out of it, as long as you preserve the feel of being loud.
At least, make sure that people don't blow their speakers with it. That goes for your speakers too.
;o)
13. Cantus Firmus
Carte Blance.

Bob: (after mastering the Title Tune - Pirana - for approval)
Edgy without losing the warmth is an interesting challenge, don't you think?
I've done a lot of little things that just add up to something bigger and special and it's just "on the raw edge" for me.
We want people to enjoy it and not be put out by any harshness, at least on the first piece. I could easily make it too bright or distorted.
It's a great and fun project. I love it. I don't mind the saxes being up front in the first tune at least.
Well, every time i tried to radically "change" the sound you gave by heavy compression and all kinds of rock tiricks it didn't work for me.
My approach was to try to open it up, increase the impact and the clarity even more, and I think it worked.
I think that this mix does not lend itself to radical changes. Lots of compression seems to muddy it up, even after eq, and the snare disappears if I do.
I think that there is only so much potential that can be done in mastering and I think I have taken it up a letter grade.

Potatoris Exquisiti - Mastered
Subject: You're a genius, the band's a genius. I just hope I have kept up with you.

Dear Fredo
Well, please look in the ftp folder for "mastered". There are two
versions, one is pwr 3 one is pwr 2. Your listen to song #1 was with
pwr 3. But I am concerned that pwr 3 make some of the material too
aggresive or too bright. This is totally subjective, since it is only
strong and bright for certain passages and there's that duality to
the music that you were looking for. And the "non-aggressive"
passages are suitably warm. However, Pwr 2 on the average will be a
bit warmer yet I think suitably aggressive on the aggressive
passages. Download and Listen to the pwr 3 first. If you agree that
certain passages are just a bit too far over the edge, then download
the pwr 2 and we can even use different dithers for different tunes
if that proves best. Or I can re-eq a bit using pwr 3 with a hair
less high end on certain spots.
The next thing is, PLEASE tell the band that I think they are
geniuses. I also LOVE your mixes. They are nearly perfect to me
(except for the slightly thick bottom, but we took care of that with
no problem). This is an original, different, special, very creative
piece of work, and your engineering is superb. You should feel proud
of it. The bottom end is punchy, the bass drum tight and solid, the
snare is snappy (though I sweetened it and fattend it a hair, but
also left it bright in spots), the overall feel is all excellent.
As for the mastering, you have given me the ultimate challenge. In
the end I treated it as a rock opera with big dynamic swings. It is
the only way to do it... I found no way whatsoever to reduce the feel
of the dynamics without ruining it. I found that too much compression
just made it suffer. Except in the purposely aggressive parts, where
loud loud loud worked very well with a lot of compression.
If you listen carefully, you will find a few cute surprises, changes
within songs and developments of the processing within songs that I
hope will please you.
Hint: Read your email to me of 9/12/06 to get some ideas what I might
do in some spots.
By the way, the "vas does fractum" very well, it makes me jump in my
seat but it won't hurt anyone's speakers, it has the intended effect.
If, even with PWR 2 dither, you find that the aggressive parts are a
bit too bright, just let me know. This is such a complex and changing
work that I won't be surprised if you suggest some specific volume or
eq changes to more suit the entire album as a whole. I think it's a
pretty darn good "first draft" though and I think you will be pleased
with most of it.
I did use some of your stems to ease transitions and I thank you for
that. It's your post-production experience that told you when some
things had to be split out. Good job!
This was a very enjoyable project, I liked it
because it was different and musically very clever and well recorded.
With great admiration,
Bob Katz

:o)
Thanks Bob, but it is *you* who are the "Master". Those Awards weren't givin' to you by mistake.
Thanks for making me look (and sound) good.
Fredo Gevaert - October 2006